Chinese Steamed Char Siu Bao made simple
see also Char siu Bao traditonal and also Char Siu Fatt Kou Bao method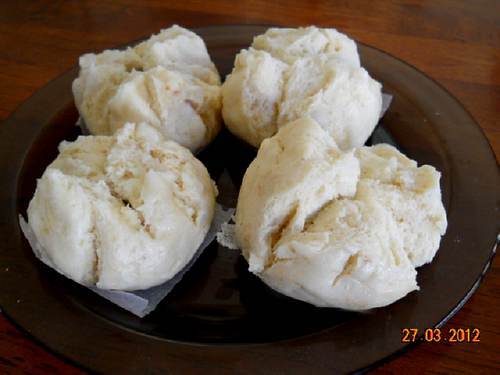 Starter Dough (A)
113g (4ozs) Pau/Hong Kong flour
1/2 tsp instant yeast,
1/2 tbsp castor sugar
1/4 cup (60ml) warm water
Adjust water, a little at a time, until a slightly wet dough is achieved.

1. Mix all the ingredients together and knead into a smooth dough.
2. Leave it in a deep bowl and covered with a damp cloth or plastic wrap and prick a few holes on the wrap.
3. Leave it in a warm place to proof for at least 4 hours.
5. After 4 hours, it should be foamy and yeasty and double in size.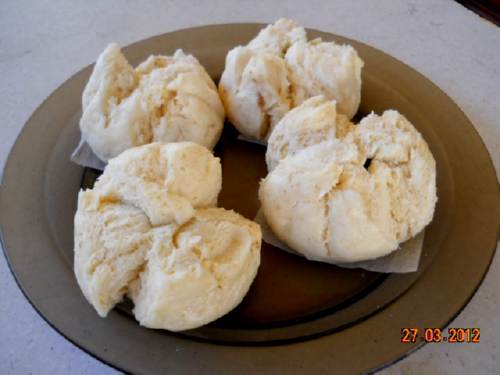 Main Dough (B)
Starter Dough (A)
57g (2 ozs) fine granulated sugar
1 tsp double action baking powder
1/2 tsp Ammonium bicarbonate (or 1½ tsp baking powder or ¼ tsp baking soda plus ½ tsp of baking powder )*
3 tsp warm water
1 tbsp vegetable oil
5 tbsp pau flour
4 tbsp wheat starch (tang flour)

Method:
1. Starter dough (A) and in 2 ozs fine granulated sugar. Mix well until the sugar is dissolved.
2. Mix 1 tsp double action baking powder, 1/2 tsp ammonium bicarbonate, and add in to starter dough mixture. Mix well to combine.
3. Add in 5 tbsp Pau flour and 4 tbsp wheat starch and knead to a soft dough.
(a little more water might be needed as it depends on how wet the starter dough is).
4. Add in 1 tbsp vegetable oil and knead well or till dough is smooth
5. Divide dough into 8 - 10 portions, depending on how big a Bao you want.
6. Flatten one portion and put 1 tsp of Char Siew Filling or filling of your desire. Pick up the edges and wrap up the filling, make sure that there is more dough on top, it will ensure smiling blossom. You do not have to pleat just ensure that the edges are sealed well.
7. Place filled Pau/Bao on top of a piece of parchment paper, put it onto a steamer and cover with a damp cloth. Continue to fill up the other portions.
8. Bring the water and 1 tbsp vinegar in a steamer to high boil.
9.Spray the filled Paus/Baos with water lightly and steam for 12 minutes.
Ensure that the water is on boiling high. The hotter the steam, the better the SMILE.
10 When the Paus/Baos are ready, remove from the steamer and allow it to cool.

If ammonia is used, then
Do not serve them as the smell of the ammonia bicarbonate has not dissipate. After cool down, re steam again for another 12 minutes before serving..

*see details description and substitution What is ammonium bicarbonate

Fillings
500g chicken charsiew, diced
300g charsiew sauce
20g coriander, chopped
20g sesame seeds, toasted

To prepare Charsiew sauce
Ingredients
· 110ml oil
· 4 shallots, sliced thickly
1 Bombay onion, sliced thickly
· 30g ginger, sliced
· 4 sprigs spring onion, cut into 10cm lengths
· 40g smooth peanut butter
· 40g fermented soy bean paste (tau cheo)
· 150g sugar
· 40g oyster sauce
· 2 teaspoons dark soy sauce
· 300ml water
· 40g tapioca flour
· 40g chestnut flour
· 25g cornflour
· 75ml water
· 50-100ml oil

To prepare sauce:
Heat the oil in a wok and add the shallots, onion,
ginger and spring onions. Fry for about 3 minutes until fragrant and golden. Turn off the heat and strain the oil.
Return the oil to the wok. Over medium heat, stir-fry with the peanut butter and fermented soy bean paste. Add the combined sugar, oyster sauce, dark soy sauce and water. Bring to a boil and simmer for 3 minutes. Turn up the heat and pour in the tapioca, chestnut and corn flours followed by the water. Keep stirring continuously, as the mixture will thicken very fast. Stir for about 2 minutes until smooth.
Transfer to a bowl and seal top with a layer of oil. Leave to cool overnight.

++ See also related similar recipe . Char Siu Fatt Kou (Bao)