A Simple Sweet Bread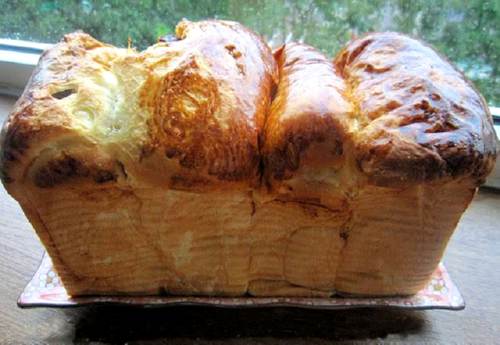 Starter Dough:
250g bread flour
162ml water
1g instant active yeast

Knead everything together till form a soft dough. Let dough proof in room temperature for an hour. Punch out the air and place in a large Ziploc bag and chill in the fridge (supposing 5°C) for 20~24hrs.

Main Dough:
350g bread flour
100g caster sugar
5g salt
8g instant active yeast (original calls for 15g fresh yeast)
1 whole large egg beaten
300g of starter dough
75ml fresh milk
50g unsalted butter

Filling:
Chocolate chips
Cranberries

Method:
1.Knead everything together except the butter till it is not sticky. Add in the butter and continue to knead till it passes the window panel stage. Whole process takes about 20 minutes.
2, Let dough proof, covered for 1½ - 2hours. Then punch out the air and divide the dough into 6 equal portions. Shape the dough as desired either in a pull man tin or in a different pan , weigh and divide as desired. Roll round the dough and let rest for 10 minutes before shaping.
3. Preheat the oven to 180°C. Grease the required baking pans.
4. Fill with chocolate chips or cranberries, add them in during the shaping step. After shaping your dough, place them in the greased pan and let proof for another 45-60 minutes till it fills 80% of the pan.
5. Bake in the oven for 30 minutes or till the top is golden brown. If the top brown too soon, cover it with aluminum foil and continue to bake till the time is complete.
6.Once removed from the oven, remove from the pans and let cool on rack completely before slicing.
*If you want the buns to look more attractive and appetizing, you can glaze them while they are still
hot with butter, margarine, apricot gel, egg white or sugar syrup.
( Cook 1part of sugar with 2 parts of water till boiling).