Home made French loaf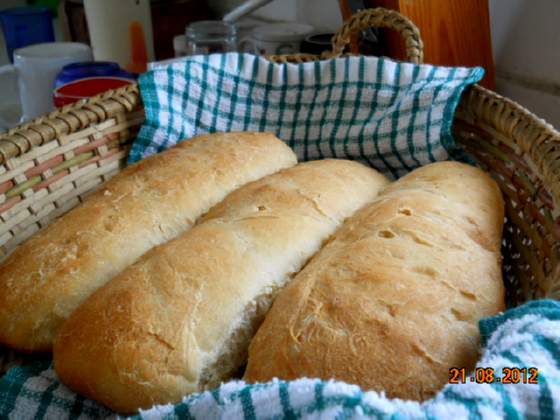 Ingredients
300g bread flour / high protein flour
1 tsp honey
1tbsp cooking oil
130ml water
2 tsp coarse sea salt

Some yellow cornmeal, for dusting and sprinkle over the pan (otional)
2 cups boiling water, for baking

Yeast Starter
1 1/2 tsp instant yeast
1 tbsp flour
1 tsp sugar
2 tbsp warm water
Mix together in a small bowl and set aside for 15mins till foamy


Method
1. Mix cooking oil, honey and water together in a bowl.
2. Put flour, salt in the mixing bowl, whisk to combine.
3. Slowly add in water mixture into flour mixture and yeast starter, knead till elastic dough. Keep aside to rise until double size.
4. Place a baking paper or silicone baking mat over a sheet pan, or use a French bread pan. sprinkle with the yellow cornmeal.
5. Divide the dough into 3 pieces.
6. Roll into balls and let the dough rest for 10 minutes.
7. Press the ball lightly and shape into a long oval, do the same with another ball.
8. Use the side of your hand press the center of the dough, and roll again 2-3 times until you get the desired length
9. Place the shaped dough over a prepared pan.
10. Let the dough rise until almost double in size, about 30 minutes.
11. Preheat the oven 220°C and place a roasting pan in the lowest shelf of the oven.
12. With a very sharp knife, make 3 or 4 diagonal cuts about 1/4 inch deep across top of each loaf. Put the bread into the oven and pour the boiling water into the roasting pan, bake for 20 minutes or till golden brown. Remove from pan and cool on wire rack.