Gelatinized Coconut bread 椰子面包



Gelatinized dough
100g bread flour
70ml hot boiling water

1. Place flour in a mixing bowl.
2. Add hot boiling water and mix with wooden spoon to form a rough dough.
3. Cover bowl with cling film and leave dough to cool in the fridge for at least 1 hour, and up to 48 hours.


To prepare Basic sweet bread dough
300g bread flour
100g plain flour
80g sugar
20g milk powder
1 tbsp instant yeast
½ tsp salt
175ml cold water
1 cold egg
60g cold butter, cubed


Method
1. Combine flours, sugar, milk powder, yeast and salt together in a mixing bowl.
2. Tear the gelatinized dough prepared earlier into pieces and add to the bowl along with the eggs
3. Using a stand electric mixer, mix on low speed, adding cold water gradually.
4. Mix until dough is well combined and leave the sides of bowl.
5. Add in the cold butter cubes and mix on medium speed until dough is smooth.
6. Shape dough into a ball, leave to proof for 1-2 hours or until doubled.
7. Divide sweet bread dough into 70g each and shape it round. Let rest for another 10mins.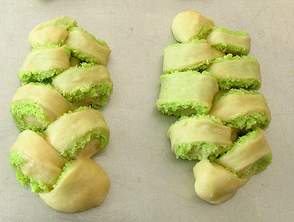 To prepare coconut bread / fillings
70g butter
120g sugar
1 egg
1tsp pandan paste
A drop of green food colouring (optional)
110g desiccated coconut
50g milk powder

Method
1. Cream butter and sugar until light. Add in egg , pandan paste, green colouring, mix well.
2. Add in desiccated coconut and milk powder, combine well. Shape it into balls, weight 35g each and refrigerated till it is firmed.
3. Wrap coconut balls inside into the sweet bread dough above, flatten the dough then roll it up like Swiss roll. Make 7-8 cuts on the dough, cut about 3/4 across using sharp scissors.
4. Twist the cut section one to left and another to the right. Let it proof for 45 - 60mins.
5. Egg wash and place in the middle shelve of the oven. Bake at 180c for 12-15mins.