Yee Sang

Ingredients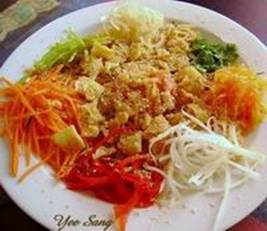 Vegetables (long shreds):
Daikon white radish (jicama or sar kok if available is best)
Green papaya (I bought this too early and it started getting ripe)
Carrot
Red capsicum
Green chilli
2 lime leaves
2 Tbsp pickled ginger
1 pickled onions/leeks
1 sprig coriander
3 Tbsp jelly fish (cut into strips and marinate with 1 Tbsp lemon juice)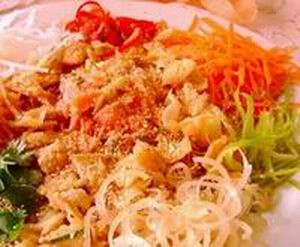 Fish :
120g fresh salmon (partly freeze to cut into paper thin slices)
Marinade fish with :
½ tsp sesame oil
¼ tsp onion or corn oil
dash sugar
dash 5 spice powder
dash pepper
1 Tbsp lemon juice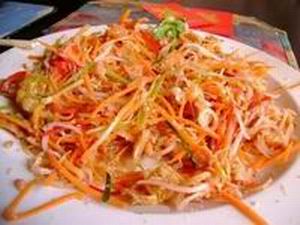 Garnishing
1 Tbsp toasted sesame seeds
1 Tbsp coarsely ground peanuts
¼ tsp 5 spice powder
yam (shred, wash off sap, dry in sun and fry until crispy)


Crispy crackers
¼ cup flour
1 Tbsp water
dash salt

Combine flour, water and salt together until smooth.
Set aside for 1 hour. Roll thin, cut into strips and deep fry until golden.
Snap to 1 cm pieces for garnishing.

Sauce Dressing
3 Tbsp plum sauce
1 Tbsp ground sesame seeds
½ Tbsp sesame oil
½ tsp sugar
1 Tbsp lemon juice
3 Tbsp water
Boil and set aside to cool.


Assembly
1. Arrange the different vegetables individually around the plate with the sliced salmon in the middle, the jellyfish around the fish. Top salmon with some pickled ginger. Sprinkle over with the garnishing of sesame seeds, groundnuts, five spice powder, fried yam and crispy crackers.

2. Just before lo hei (tossing), drizzle in the sauce. (Do not add all the sauce all at once. After tossing add more if required).