Tofu Fah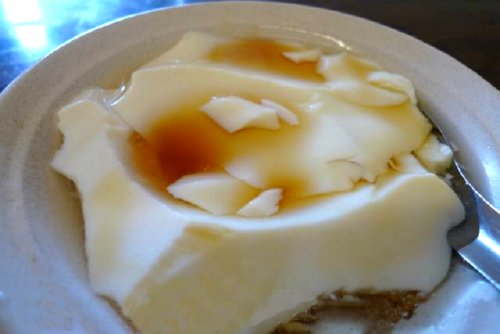 Ingredients:
240 gm soya beans
2 liters of water
1 1/2 tsp of gypsum powder
2 level tbsp of cornflour
1/2 cup of warm water


Method:
1. Soak soya beans using cold water for 5 to 8 hrs and if with hot water 3 to 5 hrs.
2. Liquidfy the soya beans with 2 liters of water and pass through a cloth bag.
3. Use a 8 qt stainless pot with heavy bottom, cook the soya milk, stirring all the time, when it comes to full boil, let foam rise to top of pot and quickly remove from fire. Remove the foam and return to fire and let it foam up another 2 more times.
4. Before the third foam, dilute the gypsum powder in the warm water and stir in the cornstarch.
5. After the third foam, remove/turn of fire and slowly stir in the cornstarch and gypsum mixture and cover pot with kitchen towel, then the lid.
6. Let the tofu fah to set and do not open lid, at least for the first 15 minutes. The longer you let the tofu fah to set the firmer the texture.
7. Serve hot or cold with Gingered syrup.
Gingered Syrup:
Cook 1 cup sugar with 1/2 cup water and a few slices of ginger(about 8 - 10) until sugar dissolves and let it cook down abit until syrupy.
Strain to remove ginger slices.