Thai Tom Yam paste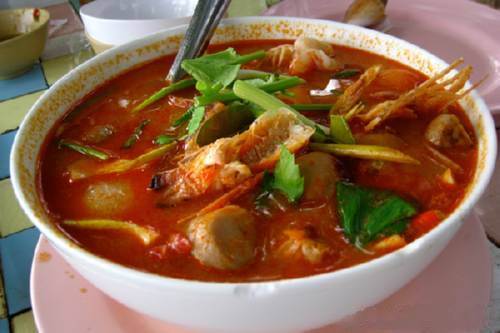 Ingredients
• Makes approx. 3/4 cup Tom Yum paste (enough to marinate up to 6 pieces fish or chicken)
• 4 Tbsp. finely minced lemongrass
• 5 cloves garlic
• 1 thumb-size piece ginger or galangal, sliced
• 1 fresh red chili, sliced, OR 1/2 to 1 tsp. dried crushed chili (or substitute cayenne pepper)
• 1/2 cup fresh chopped coriander leaves & stems
• 2 Tbsp. fish sauce
• 1 Tbsp. vegetable oil
• 2-3 Tbsp. coconut milk
• 1 Tbsp. soy sauce
• 1/2 tsp. shrimp paste
• 1/4 cup fresh-squeezed lime juice
• 3 heaping tsp. palm sugar OR brown sugar
• 2-3 spring onions, sliced

Preparation:
• Place all ingredients in a mini food chopper or food processor. Blitz to create a fragrant Tom Yum spice paste.

Tips for Using this Spice Paste:
• This paste is excellent over fish fillets or steaks, shrimp and other shellfish, or chicken or pork pieces before grilling/cooking. With fish and seafood, there is no need to marinate (the lime juice will cause you to lose some of the juices) - just slather the paste over and cook right away .

• If cooking for 2, use only half the paste as a marinade and save the rest to make a delicious side sauce. Place 1/2 the paste in a small sauce pan. Add 3-4 Tbsp. coconut milk OR fresh cream. Stir as you bring the sauce to a light simmer (avoid boiling, or you will lose the fresh flavor of this sauce).

• To use this paste for soup, bring a pot of good-tasting chicken stock to a boil. Add spice paste a few Tbsp. at a time, taste-testing as you go, until you're happy with the flavor/spice level. Add more fish sauce instead of salt as needed. Add shrimp or tofu, plus desired vegetables. Coconut milk should be added for a creamier soup.