Thai Jungle Curry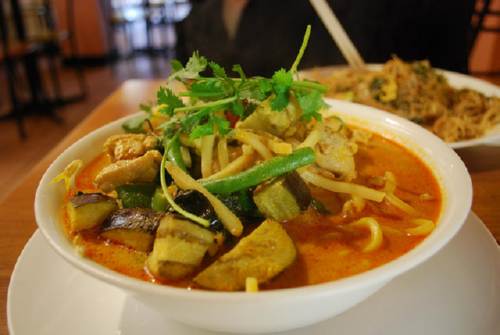 Ingredients
• 1/2 chicken, chopped into pieces, OR 4-6 chicken pieces, thighs, breast, or drumsticks
• generous handfuls of fresh coriander and basil for topping
• optional vegetables: 1 cup eggplant, chopped into bite-size pieces, and 1/2 cup cherry tomatoes

Jungle curry sauce:
• 1/2 onion, thinly sliced
• 3-4 Tbsp. galangal OR ginger, thinly sliced
• 1 Tbsp. green peppercorns (these come packed in a jar with vinegar)
• 2 Tbsp. fresh or frozen lemongrass, minced
• 6 cloves garlic
• 6 kaffir lime leaves, cut into slivers with scissors
• 1 Tbsp. chili powder
• 1-2 fresh red chilies, OR 1 tsp. cayenne pepper, to taste
• juice of 1/2 lime
• 1 tsp. shrimp paste
• 3 Tbsp. fish sauce
• 1 can coconut milk
• optional: 1 tsp. palm or brown sugar, to taste

Preparation:
1. Place all curry sauce ingredients in a food processor. Process well to form a sauce. If using a smaller chopper:only add a little of the coconut milk - just enough to keep the blades moving. The rest can be added later, along with the chicken. If you don't have a food processor or chopper: finely mince the ingredients and then stir all together in a bowl with the coconut milk to create the curry sauce.

2. Place the chicken in a casserole dish and pour the curry sauce over top. Mix all together. Cover the curry and simmering the meat in a wok for 1 hour. If adding vegetables add only after 45 minutes

3. Before serving, stir sauce well and do a taste-test. If not salty enough, add a little more fish sauce (1/2 Tbsp. at a time) . If not spicy enough, add more chili or chili sauce. If too spicy, add a little more coconut milk or plain yogurt. If too sour for your taste, add a little more sugar.

4. Top with generous amounts of fresh coriander and basil, and thin strips of fresh red chili. Also, a small 'branch' of green peppercorns can be added as a pretty garnish.