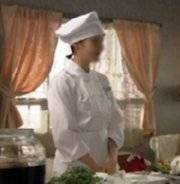 Tangzhong Raisin Bread
Tangzhong Starter dough
25gm cup bread flour
125ml water (could be replaced by milk, or 50/50 water and milk)

Method of making starter dough:
1. Mix flour in water well without any lumps. Cook over medium-low heat, stirring consistently until gluey and starchy. Remove from heat.
2. Transfer into a clean bowl. Cover with a cling wrap to prevent from drying up. Let cool. Chill in fridge for at least one hour. Then the batter is ready to be used.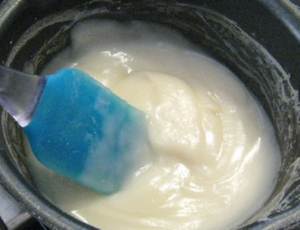 Ingredients of bread:
350gm/ 2˝ cups bread flour
55gm/3tbsp+2tsp caster sugar
5gm/1tsp salt
56gm egg (equals to 1 large egg)
7gm/1tbsp+1tsp milk powder (to increase fragrance, optional)
125ml/ ˝cup milk
120gm starter dough
5 to 6gm/2 tsp instant yeast
30gm/3tbsp butter (cut into small pieces, softened at room temperature)


Method of making bread:
1. Combine all dry ingredients: flour, salt, sugar and instant yeast in a bowl. Make a well in the center. Whisk and combine all wet ingredients: milk, egg and starter dough, then add into the well of the dry ingredients.

2. Knead until you get a dough shape and gluten has developed, then knead in the butter. Keep kneading until the dough is smooth, not sticky and elastic.

3. Knead the dough into a ball shape. Place in a greased bowl and cover with a wet towel or cling wrap. Let it proof till it's doubled in size, about 1˝ - 2 hours.

4. Transfer to a clean floured surface. Punch down and divide the dough into four equal portions. Knead into ball shapes. Cover with cling wrap, let rest for 15 minutes.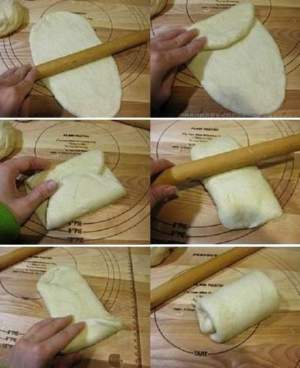 5. Roll out each portion of the dough with a rolling pin into an oval shape. Spoon in raisin evenly as much as you like. Roll from the upper, shorter end down to the bottom . Flatten the dough with your rolling pin. Then roll once again. The seals face down.

6. Arrange the rolled-up dough in a greased or non-stick loaf tin . Leave it for the 2nd round of proofing, about 1 - 1˝ 2hours, or until the dough rises up to 3/4 of the height of the tin inside.

7. Brush whisked egg on surface. Bake in a pre-heated 180C (356F) oven for 35 to 40 minutes. Transfer onto a wire rack and let cool completely.


Notes:
*If you want the bread to look more attractive and appetizing, you can glaze them while they are still hot with butter, margarine, apricot gel, egg white or sugar syrup. ( Cook 1part of sugar with 2 parts of water till boiling).