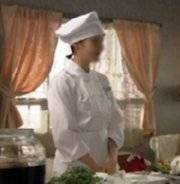 TangZhong braided colourful Bread (湯種法)



Makes a 9x5-inch Loaf

TangZhong 湯種
Ingredients:
1/2 Cup (120ml) Water
1/4 Cup (24g) Bread Flour

Bread Dough Ingredients:
1/2 Cup Milk
1/2 Teaspoon Salt
3 Tablespoon Sugar
3 Tablespoon Melted Butter
1 1/2 Cup Bread Flour*
1 1/3 Teaspoon Active Dry Yeast*

* If instant yeast is used, reduced the yeast by 20% and add extra tsp of sugar to avoid the yeast smell of over fermentation. (1tsp instant yeast Plus 1tsp sugar)


Egg Wash Ingredients (optional):
1 Beaten Egg
1 Teaspoon water




To Make The TangZhong 湯種:
Whisk the bread flour and the water together in a heat proof saucepan. Heat the mixture at low heat till it thickens .(about 2-3 mins). continually stirring, until the mixture starts to have "lines " gluey and starchy.

Transfer to a bowl and cover loosely with plastic wrap to prevent from drying and after completely cool down you can start using it or store in the refrigerator before use, covered with cling film.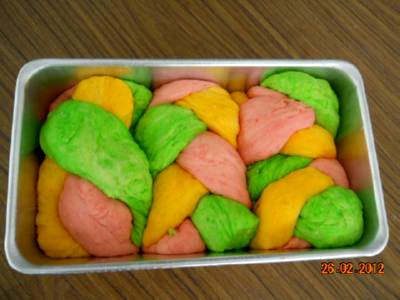 To Make The Bread:
1. Take out the TangZhong 湯種 from the fridge at least an hour before use.

2. In a mixing bowl, add in warm milk, TangZhong 湯種, salt, sugar, butter, bread flour and yeast.
Add more flour if dough is too sticky. Knead the dough for 15 to 20 minutes and proof it for 1˝ - 2 hours until the dough double in size

3. When dough is ready, punch down to deflate it. Divide dough into 3 equal portions and shape them into balls. Leave them in a warm place to rest for 15-20 mins.

4. Add color to each ball and knead each dough ball a few times to even out the color. Roll out each portion of the dough by hand, one by one, into a long tube shape. Use 3 portions to braid as follows: Take the left dough to cross over the middle piece. Cross the right piece over to the middle Repeat these steps until you reach the end. Pinch ends and tuck both ends underneath. Repeat the same process with the other 3 portions.

6. Let dough proof the 2nd round for 1-1˝ hours in a warm and moist place or double in size.

7. Preheat oven 180°C/355°F. Brush egg wash on top (optional) and bake for 23-25 mins

Tips: When proofing the dough, make sure it's in a warm place and covered with wet towel or plastic wrap so it won't dry out. I usually place it in the oven with a bowl of hot water.

*If you want the buns to look more attractive and appetizing, you can glaze them while they are still
hot with butter, margarine, apricot gel, egg white or sugar syrup.
( Cook 1part of sugar with 2 parts of water till boiling).