Sweet Potato Cake(Fatt Kou)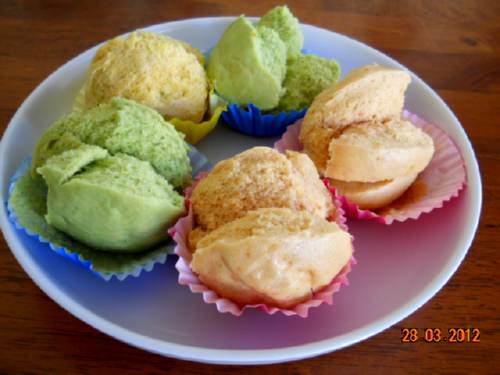 Make about 7 Fatt Kous

Ingredients
(A):
· 120g Pau flour/Hong Kong flour/cake flour
· 2 tsp instant yeast
· 1 tsp double action baking powder
· 25g castor sugar
· 1 tbsp shortening
· 55ml water

(B):
· 200g steamed sweet potato (orange type), finely mashed

(C):
· 130g Pau flour/Hong Kong flour/cake flour
· 2 tsp double action baking powder
· 110g sugar
· 1/4 tsp ammonia


Method
1. Mix ingredients (A) well and leave in an airtight container to ferment for five hours. This is the starter dough.

2. Sieve the flour and double action baking powder (C) into a large mixing bowl. Add in sugar and ammonia. Mix in the starter dough and blend well. Add in ingredients (B) and knead well to form a soft dough.

3. Divide into 3 portions. Add a few drops of food coloring to each portion and knead till color is evenly spread out.

4. Make into small balls and put into paper cups. Place the paper cups into small metal cups. Leave aside for 15-20 minutes to rise.

5. Steam the dough for 15-25 minutes over high heat.