Stewed Pork with Yam (Chinese Hakka Dish)



Ingredients :

1 kilogramme of pork belly with 3 inches width (donít cut)
1 small yam, skin and cut into huge, thick slices
1 onion, 1 piece ginger and 1 bulb garlic - pound
2 tablespoon taucheo
1 piece namyue (the red coloured preserved beancake)

Flavourings :- five spices powder, pepper, oyster sauce, dark soya sauce, sesame oil, shao hsing wine in small quantities,sugar (donít use any salt Ďcos the namyue and taucheo are salty enough)

Method
1st - Marinated the pork belly with soy sauce for few minutes. Then fry the meat until 1/2 cook and then cut into slice (1cm - 1.5cm).

2nd ~ Prepare the Nam Rui + Chinese Wine

3rd ~ marinated with garlic & Onion (chop well), five spice powder, black soy sauce, Sugar and Oyster Sauce (alittle bit)

4th ~ Cut Yam intoslic (1cm) and fried with Oil about 3 - 5 minutes
5th ~ Repeat placing yam and meat one by one (just like sandwiches).
For steam with Yam only - Add in 3 - 5 table spoon plain water
For steam with Mui Choy - Place all the meat one by one.
6th ~ Steam for 3 - 4 hours.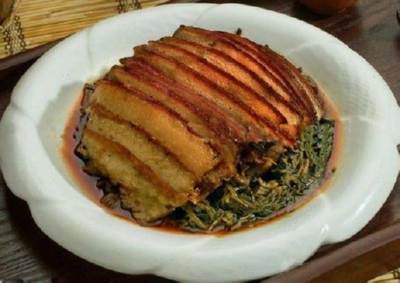 Add in Mui Choy on the top after 2 hours cook only and continues steam for another hour.
7th ~ After cook, place some lecture on the top of steam bowl and place a big plate to cover it.
8th ~ Then turn it back quickly and open the steam bowl
Serve with rice if cook with yam. And if cook with Mui Choy, prepare some lotus leaf and serve with steamed bun (man tao).