Steam Yam Kuih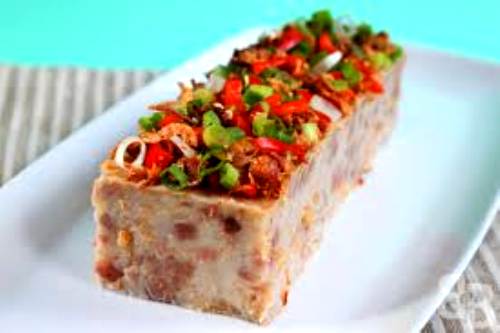 INGREDIENTS
220 gm. Rice flour
300 gm. Yam - cut into cubes
30 gm. Wheat Starch
20 gm. Tapioca flour
2 tsp. 5-spice powder
850 ml. water (divide into 2 portions of 425 ml. each)
5 shallots - sliced

30 gm. chinese sausage - lap cheong - diced
60 gm. roasted pork -siew yok - diced
50 gm. Dried shrimps - soaked then chopped coarsely
4 nos. mushrooms -soaked and diced
2 Tbsp. cooking oil
1 Tbsp. cooking oil - put into boiling water

Seasoning:
1 1/2 tsp. salt
1 tsp. Vetsin
1 tsp. sugar
1 tsp. sesame oil


Method:
(1) Fry yam with 2 Tbsp. oil and toss with 5-spice powder, leave aside.
(2) Fry the shallots until fragrant, add in dried shrimps and fry till dried shrimps starts to jump then add in chinese sausage, roasted pork and mushrooms . Dish up and leave aside.
(3) Mix the rice flour, wheat starch and tapioca flour with 400 ml. water. Add in seasoning and stir.
(4) In a wok, boil the 400 gm. water till boiling. Add in 1 Tbsp. cooking oil. Off the heat, pour in the rice flour mixture and stir till mixture thickens. On the the heat again and cook over low heat till mixture thickens, pour in 2/3 of the dried shrimp mixture and stir till well-mixed.
(5) Pour into an 8" oiled square tray and level the top.
(6) Steam for about 45 mins.
(7) Sprinkle the balance 1/3 of the dried shrimps mixture on top and steam for another 5 mins.
(8) Leave to cool before slicing.
(9) Sprinkle chillies, fried shallot and spring onion on top and serve with chillie sauce.