Special Crispy Prawn Rolls




makes about 20 potatoes puffs

Pastry Skin
300g mashed Potatoes
200gm Teng Flour ( wheat starch)
320ml Boiling water
140gm Shortening/butter/margarine
1 tsp baking soda
3/4 tsp egg yolk coloring plus a pinch of salt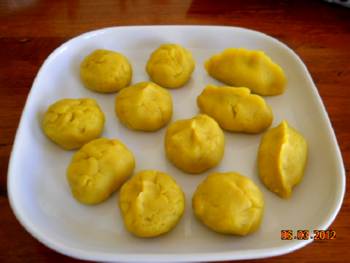 Filling Ingredients
1.2kg Prawns
50gm Carrot shredded
50gm bamboo shoot, shredded
50gm Chinese celery, shredded

Seasoning
1/2 tbsp chicken stock
1/2 tbsp salt
1 tbsp sugar

Method.
1. Boil potatoes in their jackets and then peel. Mash potatoes while it is still hot. Measure out 300g. Add egg yolk coloring.
2. Stir hot water in " tang ming fen" to form a dough. Then mix dough with preparation 1 to make a potatoes dough and knead well
3. Add in butter, Ammonia and Knead well. (open your hands like a craw to knead the dough until smooth. This step is crucial else you will not get a puffy skin or lattice like crust when you deep fry later).

4. Keep aside and rest dough for 30-40 minutes.

5. Divide approximately 30g of dough to make each puff pastry.
6. Shelled prawn, retaining the tail. Open top of prawn just enough to remove the vein
7.Heat 2 tablespoon of oil in wok. Stir fry prawn, carrot, bamboo shoot and chinese celery with seasoning until cooked . Set aside to cool
8 Place filling onto puff pastry. Each pastry should contain one prawn ( tail would be seen)
9.Heat oil over medium heat and frying in hot oil for 1 min, turn off heat and let puffs fry in cooling oil for 30 seconds, follow by turning on the heat again and fry till golden brown.
Variations:- Special crispy curry puff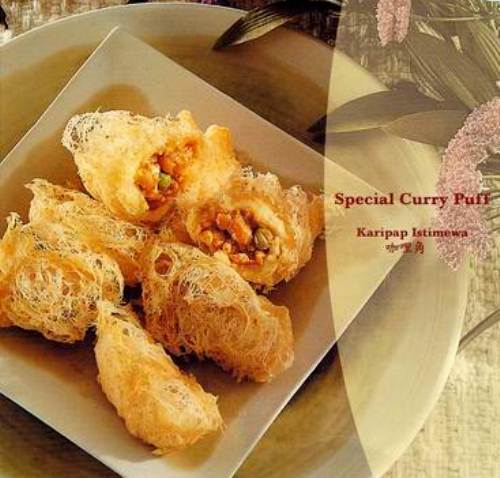 Pastry skin.
600g boiled & mashed potatoes
400gm Teng Flour ( wheat starch)
640ml Boiling water
280gm Shortening/butter/margarine
1 tsp baking soda
4 nos egg yolk (steam & mashed)


Special celery Chicken




Pastry skin.
600g boiled & mashed potatoes
400gm Teng Flour ( wheat starch)
640ml Boiling water
280gm Shortening
1tsp baking soda
4 nos egg yolk (steam & mashed)