Simple Whole meal Bread 全麥麵包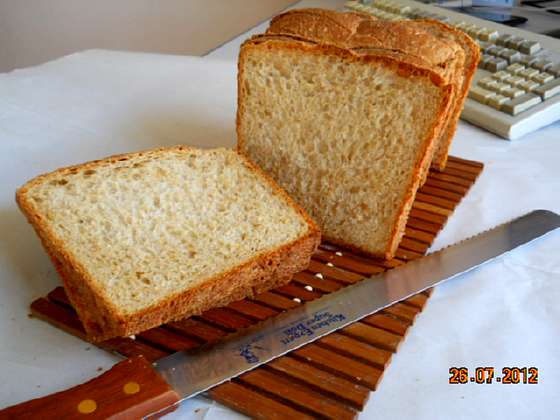 Make one loaf - 550gm
Ingredients:
180gm Bread flour
70gm Plain flour
45 gm Wholemeal bran (flour) soak in milk for 20 minutes
120ml Cold milk
1 Egg
25gm Butter
1 tsp Salt


Starter yeast
1 tbsp flour
15g or 1 tbsp Sugar
2 tsp Instant yeast
30ml (2 tbsp) warm water
Mix together and leave aside for 15 minutes till foamy.

Method:
1. Put all the ingredients and starter yeast into a mixer bowl except butter. Beat till it forms into an elastic dough. After 10 minutes of beating, add in butter and continue beating till it is well combined.
2. Cover and rest for 1 hour.
3. Roll dough into a ball, divide into 4 pcs , roll into round ball again and let it rest for 10 minutes.
4. Roll each dough into a rectangle and then roll it up like a swiss roll. Place side by side into a pullman tin with cover - about 8 1/2 " x 4″ .
5. Leave to rest for about an hour or till it reached 3/4 the height of the tin. After 1 hour if the dough doesn't reach the 3/4 height, continue to let it rise.
6. Bake in a preheated oven 190C for about 30 mins.