Xiaw Pau ( Siu Bao)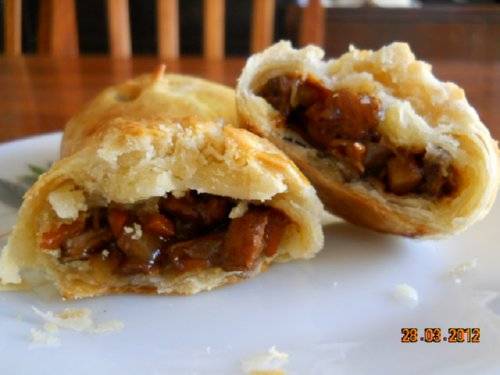 Ingredients:
Oil dough:
125g all purpose flour
75g shortening

1. Sift flour on the table and blend in shortening. Using the plams, rub in gradually to form a soft dough.
2. Divide water dough into 20x10g pieces.

Water Dough
235g all purpose flour
80g cooking oil
35g sugar
7g golden syrup
120g water

1. Rub oil with flour until crumble.
2. Dissolve sugar and syrup in water and add to the above. knead dough until smooth and rest for 15 mins.
3. Divide dough into 20x23g pieces.


Glaze – 2 egg yolks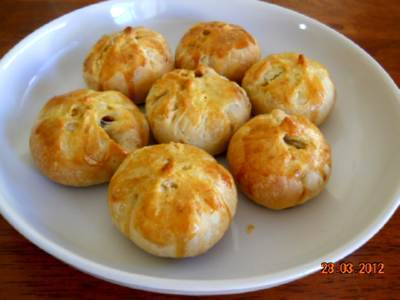 Method:
1. Wrap oil dough into water dough and roll it out into a thin rectangular sheet.
2. Roll the sheet down ino a swiss roll shape. Turn 90deg and repeat once.
3. Press dough with palm and roll out into a circular sheet.
4. place filling in the middle and pleat pastry upwards towards the centre.
5. Egg wash and bake at 190 degC for 20-25 minutes.
6. Egg wash again halfway through baking.

Char Siew Filling
300 gm Char Siew ( finely diced )
3 tbsp sugar
1 tbsp tbsp Flour
¾ cup water
1 1/2 tbsp oyster sauce
1 Tbsp light soya sauce
1 tsp Dark soya sauce
4 chopped shallots
1/2 cup green peas
2 Tbsp oil

Heat oil and stir in the shallots.
Add in flour and fry until flour is cooked and brown.
Put in the diced char siew and fry for a short while.
Add in water, all the sauces and sugar.
Cook till the sauces thicken and gluey.
Lastly add in the green peas.
Set aside to cool .