Chineese Sausage made easy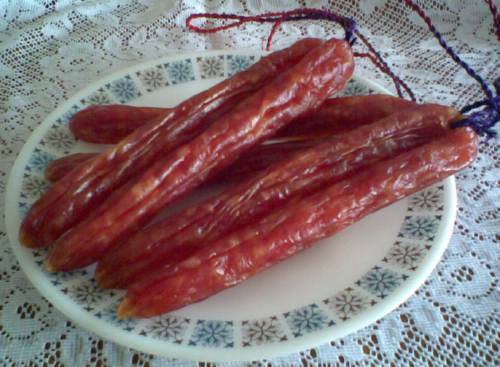 Ingredients:
600g pork fillet
60g pork fat
20g sausage casing
some rafia string

Seasoning:
1 tbsp Chinese wine
2 tbsp light soya sauce
2 tsp salt
2 tsp sugar
1/4 tsp saltpeter (optional)
2 tsp warm water (to dissolve saltpeter)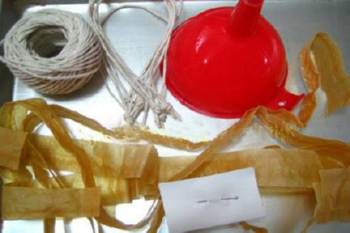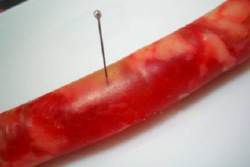 Method:
1. Soak sausage casing with warm water till soft. Fix it to water tap and rinse until clean. Drain.

2. Wash and slice pork fillet to about 1 cm thick pieces and pork fat into 1/2 cm thick pieces.

3. Place sliced meat into a big bowl. Firstly, add in the saltpeter solution and mix well. Next, add in the rest of the ingredients and mix thoroughly. Leave to marinate overnight.

4. Tie off one end of sausage casing, attach a funnel to the other end and gather sausage casing on funnel tube.
.Stuff marinated meat into casing. Ease the meat to the end of the casing as you stuff . Squeeze to distribute filling evenly throughout the casing. The meat must be quite tightly packed but do not overfill otherwise the casing may split open. When it is about 12-15 cm long, cut it off and tie with a raffia string. Use a pin to burst any air-pockets that forms between the meat. Prick generously on all sides of sausages to expel air.
5.When all sausages have been filled, use a piece of clean cloth that has be wringed out of excess water to wipe down the sausages before drying them.

6. Boil a pot of water. When boiling, put in the sausages to scald it. Remove and hang outside to dry or in a well-circulated area for 4 to 5 days.

7. Sausage may be steamed, deep-fried or baked, all over low heat for about 8 minutes. To serve, slice into paper-thin pieces.