Satay Sauce 1


Ingredients
· 8-9 dried chillies, soaked in water
· 1/4 cup toasted, skinless groundnuts, finely ground
· 1 stalk lemon grass (serai), lightly bruised
· 2cm piece galangal (lengkuas), lightly crushed
· 1 tsp belacan granules
· 1/4 cup tamarind juice
· 1 cup water
· 1/4 cup coconut milk
· Salt to taste
· 1 tbsp sugar

Method
Heat oil in a saucepan. Add in lemon grass, galangal, chillies and belacan granules. Stir in coconut milk, water and tamarind juice and mix in sugar and salt. Bring to a low boil. Add in groundnuts and allow the sauce to simmer a while. When oil rises to the top, dish out the sauce and serve with satay.


Satay sauce 2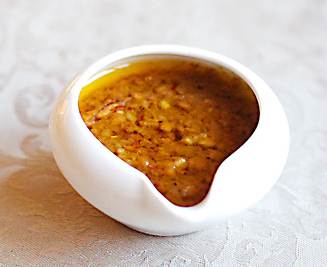 Ingredients

100ml/3˝fl oz vegetable oil
225g/8oz peanuts
4 shallots, chopped
2 cloves garlic, chopped
1 tsp shrimp paste (blachan)
1 small red chilli, chopped
pinch chilli powder
1 tsp brown sugar
1 tbsp dark soy sauce
400ml/14˝fl oz water
1 lemon, juice only
salt, to taste

Method
1. To make the sauce, heat the oil in a pan or wok and stir fry the peanuts until golden. Place in a food processor and blend until smooth.
2. Fry the shallot, garlic and shrimp paste for a few seconds. Add the chopped chili, the chili powder, sugar, soy and water. Bring to the boil.
3. Add the blended peanuts and simmer for 8-10 minutes until thickened. Add the lemon juice and salt, to taste, if required.