Peanut Biscuit cookies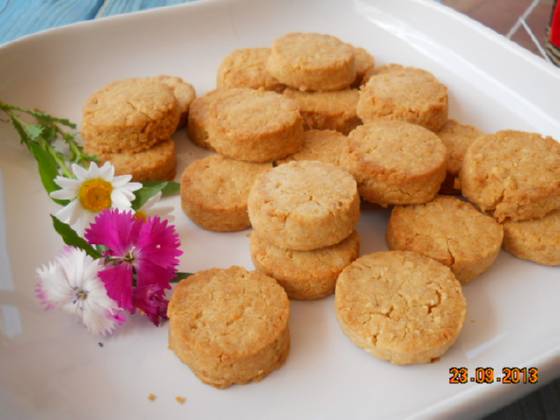 INGREDIENTS :
200 g peanuts
200 g all purpose flour
1 tsp of baking soda
50 g sugar
1 1/2 tsp salt
100g Peanut oil or cooking oil
1 egg lightly beaten



METHOD :
1. Preheat oven at 350 F. In the wok, add the peanuts and dry fry over low heat until crunchy.
2. Blend the peanuts into fine powder.
3. Sieve the flour, baking powder and icing sugar. Then add in the peanut powder and salt. Mix it well. Add in beaten egg
4. Add in the peanut oil and mix till a piable dough is formed. Then on a floured surface knead the dough with hands.
5. Roll the dough into approximately 1 inch balls and place on a baking sheet.
6. Flatten each ball of dough with a fork, first one way then crossing the other way producing a checkered pattern.
7. Bake for about 20-25 minutes or till golden brown.
8. Let it cool completely before store in the container.