Pappa Roti / Mexican Bread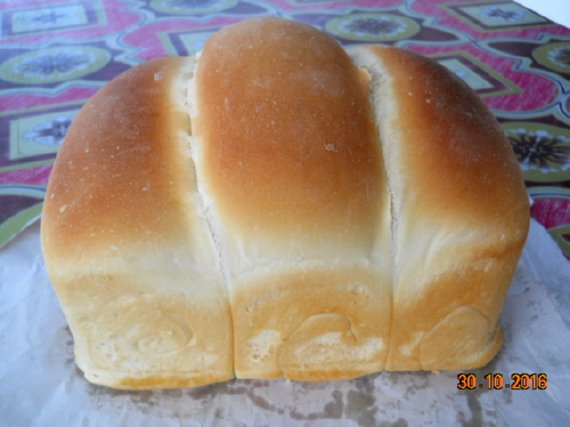 Make one loaf 967g

Predough (Tangzhong)
100 ml water
50 g Bread flour
1. Mix flour in water well without any lumps. Heat the mixture over very low heat till it thickens .(about 2-3 mins). continually stirring, until the mixture become gluey and starchy. Remove from heat.
2. Transfer into a clean bowl. Let cool. Cover with a cling wrap to prevent from drying up. Chill in fridge for at least two hours or overnight. Then the batter is ready to be used.

Sponge (starter)
300 g Bread flour
2 tsp Instant yeast
1 tbsp caster sugar
180 ml Warm water

1.Mix yeast together bread flour
2. Dissolve the sugar in water
3..Knead for around 10-15 minutes or until smooth.
4. Cover with damp towel and rest in a warm environment for 2 hours or till double in size.



Main Dough
10g caster sugar (one tablespoon)
1 tsp salt
10g Butter (one tablespoon)
1 recipe of predough / tangzong
1 egg
30ml very cold water ( 2 tablespoon)
200 g Bread flour
15 g Honey
15 g Milk Powder (one tablespoon)


Method
1. Punch down the starter sponge dough after it double in size.
2. Combine predough mixture to the sponge dough and then add remaining main dough ingredients.
3. Add caster sugar, salt, milk powder,
4. Add egg, honey, cold water, mix well.
5. Add bread flour, mix well and knead for a short while
6. Add butter and knead again until very smooth (around 15-20minutes Adding a little bit more flour if necessary )
7. Divide into three equal portions, knead and fold each portion several times
8. Place inside a baking tin and set aside to prove again for another 2 hours or till double in size.
9. Bake for around 45 min until golden brown in 180 C preheated oven.