Pandan Chiffon Cake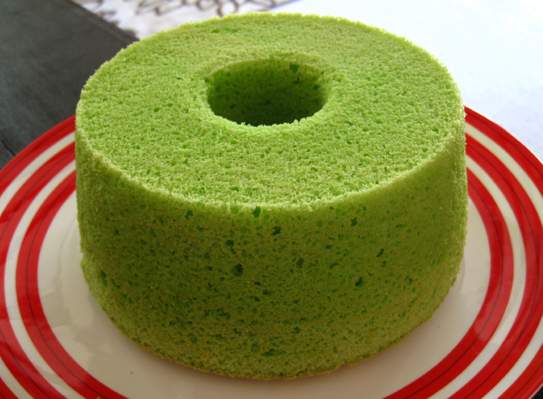 Ingredients of batter:


(A)
4 large egg yolks
70g caster sugar
¼ tsp salt
2-3 drops pandan extract

(B)
85ml oil
115ml pandan juice

(C -Sifted twice )
150g self-raising flour
1 tsp baking powder

(D)
4 large egg whites
70g caster sugar
½ tsp cream of tartar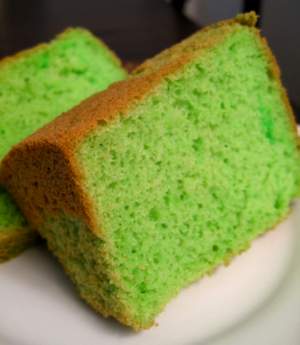 Method
1.Preheat oven to 170° Celsius.
2. Cream A until sugar dissolves. Add B in order listed. Mix well after each addition.
3. Fold in sifted flour and mix well.
4. Use a large clean bowl, making sure there's no water or oil in it. Beat the egg whites with an electric mixer until bubbles form. Add the cream of tartar. After mixing well, add the 70 grams of sugar in three batches, about one-third at a time, and beat well between additions. Continue to beat until stiff peaks form.
6. Fold ½ egg whites into yolk mixture gently. Fold in the rest of the egg whites.
7. Pour into tin (ungreased) and bake for 40-45 min
8. Invert cake and stand on 'feet' for 1 hour until completely cooled. Cut cake with a serrated knife.

To make pandan juice:
Chop pandan leaves into chunks, pop in a food processor and add about 1½ tablespoons of water. Process to small pieces. Place pandan leaves in a muslin bag and squeeze out the juice. You need about 2 tablespoons of it to make this cake. If you don't have a muslin bag, just use your clean hand to squeeze out the juice.