Pandan Kaya cake (Malaysian)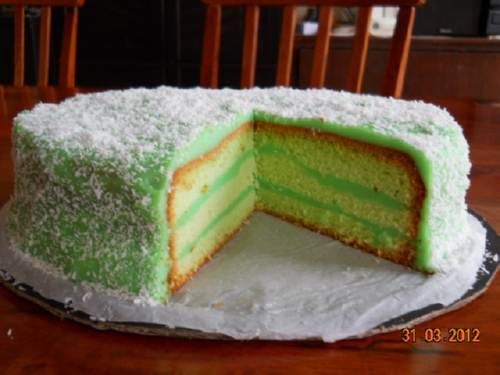 Ingredients
250 gm. self raising flour * (see below)
175g sugar
4 eggs
3 Tbsp. Pandan juice
a little green pandan paste or green colouring
3 Tbsp. Thick coconut milk
1 1/2 Tbsp. cornoil

* you can substitute with plain flour plus 2 tsp baking powder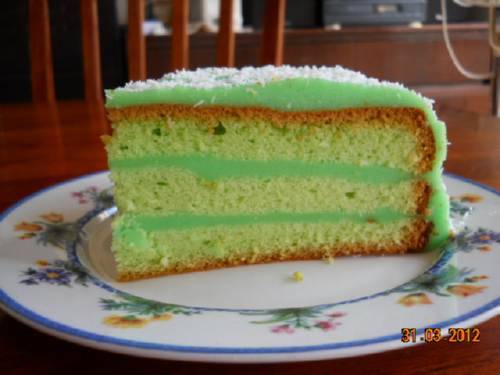 Pandan Kaya:
900 ml. Coconut milk ( squeeze from 1 1/2 coconuts - add water)
9 Tbsp. Hoen kwee flour / green pea flour
2 Tbsp. Instant Jelly Powder (1 packet-12g)
1/2 tsp. salt
a little green colouring
a little pandan paste
180 gm. sugar

60 gm. Desiccated coconut for covering cake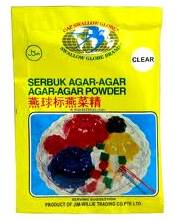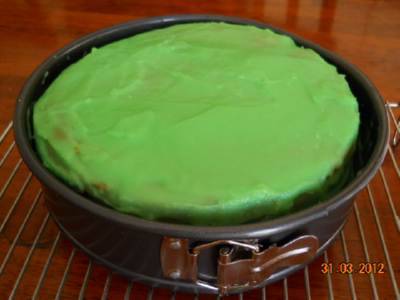 Method for cake:
(1) Whisk or beat sugar and eggs till light.
(2) Add Pandan juice and continue to beat till fluffy.
(3) Add green colouring and Pandan paste.
(4) Fold in flour alternately with coconut milk and corn oil and mix till combined.
(5) Pour into a 9" round cake tin and bake at 175C (155C fan force) for about 40 to 45 mins. or till skewer inserted comes out dry.
(6) Slice on wire rack to cool before slicing into 3 or 4 slices , your preference.

Method for Pandan Kaya:
(1) Put all the ingredients into a pot and stir till evenly mixed.
(2) Cook over medium heat. Stirring till mixture thickens. (gluey and starchy)
(3) Place a slice of sponge cake into a cake ring, pour in some kaya and continue the same process till the last layer is covered with Pandan kaya.
(4) Leave aside to cool and set before chilling in the fridge.
(5) Remove cake from cake ring and cover the whole cake with desiccated coconut.
(6) Slice and serve chilled.