Nigella's Chocolate Chips Muffins (Malaysian style)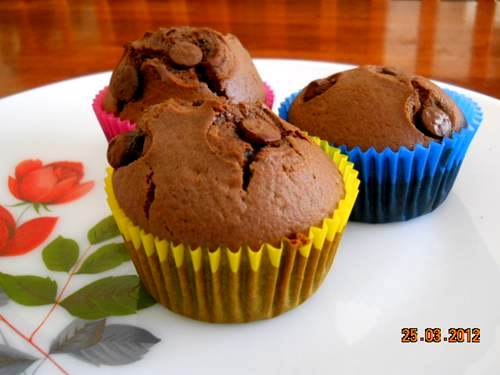 INGREDIENTS:
Ingredients (makes 12 muffins)
250g plain flour
2 tsp baking powder
1/2 tsp baking soda
2 tbsp cocoa powder
130g caster sugar
60g chocolate chips (save 1/4 of the chips for sprinkling)
250ml milk
90ml vegetable oil
1 large egg
1 tsp pure vanilla extract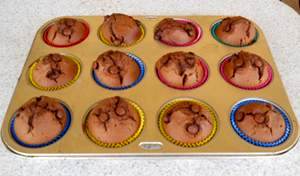 Method
1. Preheat the oven to 200 deg C.
2. Put the flour, baking powder, baking soda, cocoa, sugar, and 3/4 of the chocolate chips into a large bowl and mix well.
3. Whisk egg and add in all the liquid ingredients into a measuring jug and mix well.
4. Fold in the dry omgredients slowly in gentle strokes. Stop stirring once the last traces of flour disappear. Do not over mix. A lumpy batter will ensure the muffins stay moist and fluffy.
5. Spoon the batter into paper muffin cases.
6. Sprinkle the remaining 1/4 chocolate chips on top and bake for 20 minutes or until the muffins are dark, risen and springy.