Moon cake Skin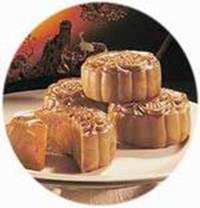 Ingredients
· 400g golden syrup
· 1/2 tsp bicarbonate of soda
· 1 1/2 tbsp alkaline water (kan sui)
· 100g corn oil
· 550g flour
· A few drops of dark soy sauce


Method
MIX sieved bicarbonate of soda, golden syrup, alkaline water and oil with a wooden spoon and allow to rest for 4-5 hours in a basin.

Add the dark soy sauce, then fold in sifted flour gradually and mix evenly to form a smooth and soft dough. Let the dough rest for another 6-7 hours.

Divide dough into even balls, each weighing 40-50g.
Note
* When the dough is "well rested" after 5 hours, it hardens a bit and is more elastic. It is also easy to work with.

* The golden syrup is the key factor in ensuring that mooncakes keep longer and the skin does not turn mouldy quickly. The syrup is kept in a cool and dry place and left to mature. It can be made months ahead or kept up to a year.

* Freshly baked mooncakes should be left uncovered so that the free circulation of air around it will slowly soften the skin and help it to mature. This takes 2-3 days.

* Dark soy sauce is used for the pastry dough because it gives a darker shade to the mooncake skin after baking.

Making Moon cakes
Salted Egg yolk - Wash salted egg yolk and roll in sesame oil.
Steam for 2 minutes. Leave to cool.

Egg Glaze- Mix well and strain:
2 egg yolks
1 tsp water
Pinch of salt
Thick soy sauce ( for colour) optional

For Lotus fillings – see Ping Pei Moon Cake with lotus
For Red Bean fillings – see Tau Sar Fillings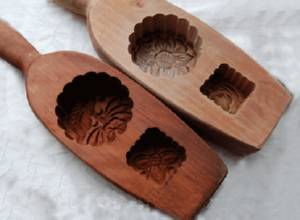 Traditional wooded and new Plastic design moon cake mold.


Method
Divide your dough into even pieces of 40g each. Roll the dough into a ball and flatten out with your hand.

Weight the lotus seed paste. If you like the yolk of salted eggs, you can insert one in the centre.

Place the filling in the middle of the flat dough and slowly wrap around it. Seal the edges and roll dough lightly between your palms until the filling is hidden.

Dust mould lightly with flour. Press doughball into the mooncake mould. Knock the mould against the table to dislodge the mooncake.

Bake in a preheated oven at 180 ºC for 10 minutes. Remove and leave to cool for 5 minutes. Brush on beaten egg glaze. Return to bake for another 10 minutes or till golden.
Note
Do not overbake mooncake otherwise filling will overflow and mooncake will lose its shape.