Lotus Paste 蓮蓉






Makes approx. 350g lotus paste

Ingredients
250g frozen skinless lotus seeds
150g white granulated sugar
1/4 teaspoon salt
75ml peanut, corn or canola oil
20g wheat starch (wheaten cornflour)

Optional - Add 1/4 teaspoon pandan paste to the lotus paste towards the end of cooking and mix in well.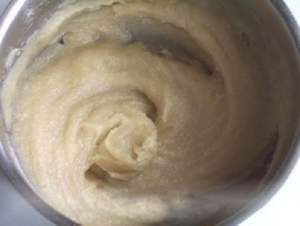 Method
1. Pour boiling hot water into the frozen lotus seeds to thaw, then drain.
2. Use a small skewer to poke out the inner green shoot in each of the lotus seed. The green shoot will make the paste taste bitter if not removed.
3. Put prepared lotus seeds into a saucepan and add water to generously cover the seeds. Bring to a boil and cook until the seeds are soft. Drain.
4. Mash the lotus seeds, or blend into paste. Push the mashed lotus seeds through a sieve to remove any hard bits.
5. Put the sieved lotus paste into a wok or pot, add salt and half of the sugar. Cook over medium low heat until the sugar dissolves, stirring or whisk continuously. Add the remaining sugar and stir until sugar dissolves. Slowly drizzle in the oil, stirring continuously and cook to mix the oil in. Make sure oil is thoroughly absorbed into the paste before adding more oil. When all the oil is added, continue to cook until the paste is thick. Sift in the starch and thoroughly mix in well. The paste should be very thick at this stage and able to stand in peaks. Remove from heat to a heatproof container to cool.