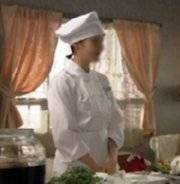 Lao Shu Fen (老鼠粉 / 银针粉) (Chinese shortRice Noodles)
Also known as Yin Zhen fen ( Silver needles noodles)


Ingredients
2 cups rice flour
1/4 cup tapioca flour
1/4 cup corn starch
200 ml boiling water
175 ml water (room temperature)
2 tbsp oil



An improvised Strainer (originally a coconut juice strainer) available at Ikea store but need to change the cup.
Cup is actually a plastic container bought separately, just drill or make some holes at the bottom.

Also available at spotlight stores (Australia) sold as potato ricer but more expensive with three sizes of disc.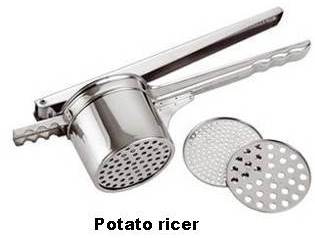 Method
1. Mix rice flour, tapioca flour and potato starch together into a big bowl.
2. Add in boiling water. Mix well. Keep on stirring till it becomes a paste.
3. Add in normal water to cool down the paste. Set aside to rest for 1/2 hour.
4. Add in oil and knead to a smooth paste.
5. Boil water in a pot. Place a grater or an improvised coconut strainer or potato ricer as above picture on top.
6. Pour the rice paste on to the strainer and press . When the paste falls through the holes, it becomes rice noodles
7. Scope up immediately when the rice noodles float. Set aside to cool.