Kuih Bingka Ubi Kayu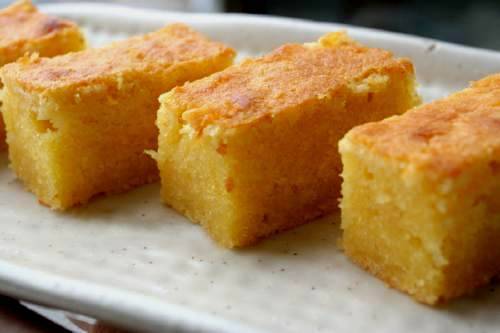 Ingredients:
1 lb grated tapioca(cassava)
1 cup sugar
1 cup coconut cream and 1 tbsp for glazing
1 stick (4 ozs) butter
2 large eggs
1/4 tsp salt


Method:
1) Grease a 6" x 6" square tin.
2) Preheat oven at 375 F
3) Mix all the ingredients in a large glass bowl and microwave on high 1 minute at a time until mixture is thick.
4) Pour into greased tin and bake for 30 minutes.
5) Glaze the top with 1 tbsp of coconut cream and broil/grill until brown.
6) Cool before cutting into pieces.

Note: if you use frozen cassava, remember to squeeze the water before mixing in Step 3.


Alternative if tapioca unavailable

Ingredients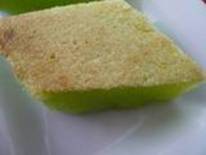 · 160g rice flour
· 100g green pea flour
· 8g tapioca flour
· 210g castor sugar
· 1/4 tsp salt
· 1.3 litres coconut milk (from 2 grated coconuts)
· 2 screwpine leaves, knotted
Method
Lightly grease a 21cm square cake pan.

Combine rice flour, green pea flour and tapioca flour with coconut milk. Blend well with a wooden spoon then strain mixture through a fine sieve into a deep saucepan.

Add in sugar, salt and screwpine leaves. Cook over a very low heat until mixture turns thick and sticky. Keep stirring for about 4–5 minutes right to the bottom to prevent the batter from sticking to the saucepan and getting burnt. Remove the screwpine leaves.

Pour the cooked batter into the prepared cake pan and spread with a spatula to level the surface. Bake in preheated oven at 170°C for 30–35 minutes until dark brown and aromatic.

Leave to cool completely before cutting into bite-sized pieces.