Kaya butter Cake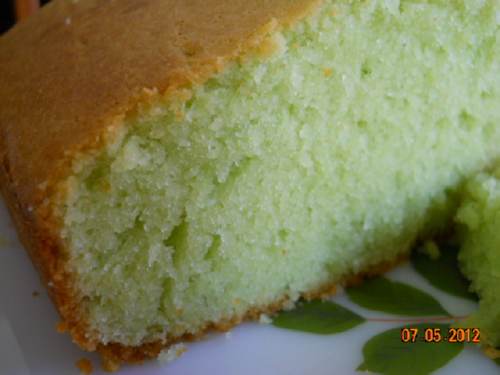 Ingredients (A):
125g Thick coconut milk
2-3pcs Pandan leaves + few drops of green colour
( or subsitute with 1 tsp pandan paste)

Ingredients (B):
5 Egg whites
50g Sugar
1/4 tsp Cream of tartar
5 Egg yolks

Ingredients (C):
200g Butter
50g Sugar
175g Plain flour
25g Milk powder (skimmed milk powder)
1 tsp Baking powder
Optional: a pinch of salt if uses unsalted butter

Method:
Preheat oven to 160 degrees C
Grease and line a 9 inches round tin with paper
1. Sieve the flour, milk powder & powder together. Set aside.
2. If using pandan leave, then you need to heat it with the coconut cream & coloring till just hot and let it cool. Remove the leaves when it's cooled.
3. Cream butter & sugar at medium until fluffy. (Kenwood Chef speed 3 - 15mins), add in coconut milk. Turn to slow speed, add in flour till incorporated.
4. Whisk egg whites, sugar & cream of tartar until stiff. Turn to slow speed and add in egg yolks, whisk for 1-2 mins to mix well.
5. Fold meringue into the butter mixture and mix well.
6. Pour batter into baking tin and bake for 40-45mins.