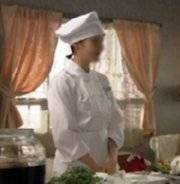 Ham Chim Peng (chinese 5 spice doughnuts)



(A) Gelatinised dough
120g plain flour
85ml hot boiling water
1. Place flour in a mixing bowl.
2. .Add hot boiling water and mix with wooden spoon to form a rough dough..
3. Cover bowl with cling film and leave dough to cool in the fridge for at least 1 hour

(B) Ingredients (main dough)
380g plain flour
170g lukewarm water
80gm sugar
50g condensed Milk
20g milk powder
30gm shortening
(C) Ingredient (yeast paste starter)
1 tsp instant yeast
1 tbp flour
1 tbp sugar
2 tbp warm water
Filling:
2 tsp five spices powder
2 tsp salt
A little water.
Mehod.
1.. Mix ingredient C (yeast paste starter) Leave aside for half an hour.
2. Mix the preparation in step1 (yeast paste starter) into Ingredient B (main dough) in a mixing bowl.
3. Tear the gelatinized dough (A) into pieces and add to the bowl. Mix well. Knead till dough surface is smooth and elastic.
4. Cover with wet cloth for 2 hours or double in size.
5. Sprinkle some flour on a table. Roll out dough into a rectangle sheet
6. Sprinkle some five spice powder, salt and a little water. Roll the dough up.
7. Cut dough into 1 inch slices. Shape and flatten each piece. Leave aside for 45-55 mins.
8. Deep fry in hot oil till golden brown. Drain off excess oil.