Deep fried sesame Balls

Ingredients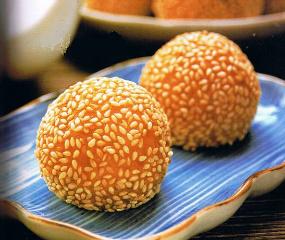 · 200g plain flour
· 1½ tsp baking powder
· 1/4 tsp bicarbonate of soda
· 1/8 tsp salt
· 65g sugar
· 65ml UHT milk
· 1½ tbsp margarine or butter, melted
· 1/2 cup sesame seeds

Filling
· 150g red bean paste (available at bakery shops)
Method
To prepare the filling: Portion out red bean paste into small balls of about 5g each.

Put sifted dried ingredients, salt and sugar in a mixing bowl. Pour in the milk and stir in the melted margarine or butter to mix into a soft dough.

Divide the dough into portions of 25–30g each and wrap around a small ball of filling. Shape into a neat round ball. Dip the ball lightly in water, then dip into the sesame seeds to coat all over. Press the sesame seeds tightly around. Heat enough oil in a wok and slide in the sesame balls.

Deep-fry the balls over a gentle low heat, stirring frequently until they turn lightly golden.

Remove the sesame seed balls and drain them well on absorbent paper towels.




Deep fried sesame Balls2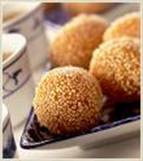 Ingredients
· 250g glutinous rice flour, sifted
· 125g sweet potato, steamed and mashed
· 35g castor sugar
· Pinch of salt
· 140ml hot water
· 60g sesame seeds


Method
Put sifted glutinous rice flour into a mixing bowl. Stir in salt and sugar. Add in mashed sweet potato to mix. Pour in hot water and mix with a wooden spoon until well blended.

Knead the dough lightly until it is firm, smooth and pliable but not sticky to the touch.

Roll dough into a long fat sausage shape and cut into 12–14 equal sized portions. Shape each portion into a ball. Wet the palms of your hands and roll the balls in sesame seeds.

Heat oil over a medium heat and deep-fry the balls in batches of 3–4 pieces at a time for 4–5 minutes or until the sesame seeds turn golden. Remove with a slotted spoon and drain well on absorbent kitchen paper.

Serve immediately.