Chocolate Muffins (Malaysian)




INGREDIENTS:
100g butter
50g corn oil
120g soft brown sugar
1/4 tsp vanilla essence
2 eggs
100g plain flour
90g self-raising flour
1 ½ tsp baking powder
12g cocoa powder
1/8 tsp salt
50ml UHT milk
30g chocolate chips
20g chopped walnuts (or any nuts of your choice)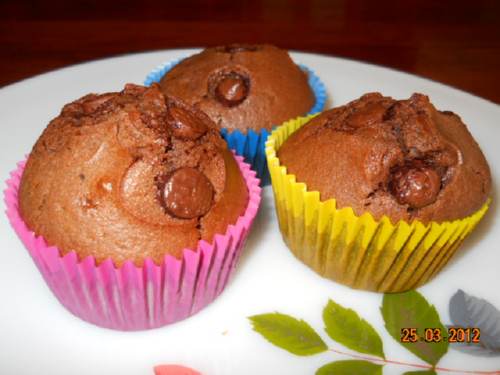 Method
1. Grease a 12-hole muffin pan and set aside. Sift flour, self-raising flour, baking powder and cocoa powder onto a baking sheet and add salt to mix.

2. Beat butter, oil, sugar and essence until creamy. Add eggs and beat for 1–2 minutes.

3. Add milk to mix, then sift in dry ingredients to combine. Gently mix in the chocolate chips and walnuts.

4. Spoon batter into the prepared muffin pan – fill each hole up to two-thirds full. Bake in preheated oven at 200°C for 25–30 minutes.