Chicken Rendang ( Malaysian)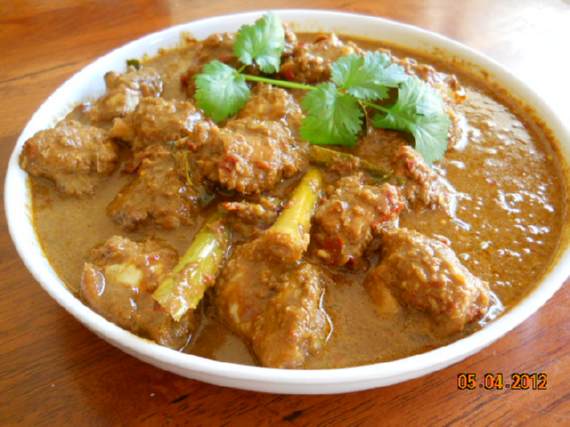 Ingredients
1.5kg-2kg chicken, chopped into serving pieces
1 litre thick coconut milk (from 2 coconuts)
1 cup grated coconut (use the white part only), dry fried for kerisik
3-4 kaffir lime leaves, finely sliced
1 turmeric leaf, finely sliced

Spices (ground):
30 dried chillies, soaked
3 fresh red chillies, seeded
8 shallots
4 cloves garlic
5 stalks lemon grass
4-5cm piece ginger
3cm piece galangale
2cm piece fresh turmeric

Seasoning:
1 1/2 to 2 tsp salt or to taste
1 tsp dark brown sugar


Method
Combine chicken, ground spices and coconut milk in an earthen pot and bring to a low boil. After it has boiled, lower the heat and simmer until the gravy turns thick. Keep stirring to prevent sticking.

Add kerisik and mix well. Cook until meat is tender, gravy is thick and oil rises to the top. Add sliced leaves and seasoning.