Black Forest BlueBerry cake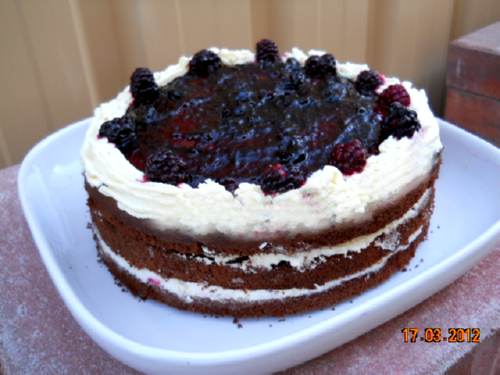 Ingredients
Sift the flour together:
(A)
125 gm. Plain flour*
1/2 tsp. baking powder*
1/4 tsp. bicarbonate of soda
75 gm. sugar
1/4 tsp. salt

*may be substituted with self raising flour and remember to minus the 1/2 tsp of baking powder.

(B)
80 gm. egg yolks (About 4 eggs)
50 gm. corn oil
50 gm. fresh milk
35 gm. cocoa powder + 70 gm. hot water

(C)
160 gm. egg white ( about 4eggs)
80 gm. sugar
1/4 tsp. cream of tartar

(D)
300 gm. whipped cream - whipped
1 tin or dark pitted cherries
200 gm. Blackcurrant Jam




Method:

(1) Beat egg yolk with a hand whisk and combine (B) ingredients together till smooth, add in sifted flour mixture and blend till smooth.

(2) Whip egg whites in a clean mixing bowl until big bubbles are formed. Add in the cream of tartar and whip until white in colour. Add in sugar in 3 batches, 1/3 at a time and whip until egg whites is stiff. Start at low speed and turn to high speed only on the 3rd batch. This step is crucial.
* (watch video how to beat egg white)

(3) Fold in (1) and (2) then pour into a 9" round tin and bake at 180C for about 35 to 45 mins. or till cooked.

(4) Leave to cool completely then slice into 3 layers of cake.

(5) Spread some whipped fresh cream on the 1st layer of sponge cake, then spread some blueberry pie filling on top and place some pitted cherries on top. Place the second layer of cake on top and repeat the same process till the 3rd layer cake is on top.

(6) Cream the whole cake with fresh cream.

(7) Spread scraped chocolate for the side and top. Decorate to your desire.

(8) Chill the cake before serving.