Beehive Pandan cake (Vietnamese honeycomb cake)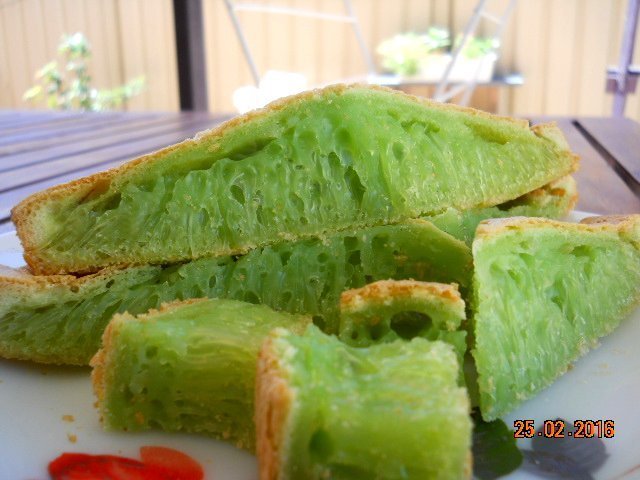 Ingredients
200 ml coconut cream
1 cup (200gm) granulated sugar
pinch of salt
½ tsp of Pandan favor extract
240gm (2cups) tapioca starch
6 large eggs
2½ teaspoons or 11 grams) single-acting baking powder
(Do not use double acting baking powder)

Vanilla favor -optional
*You can substitute pandan juice with orange juice and it will be Bee hive orange cake.







Method
1 .Grease only the bottom of the baking pan.
2. Preheat oven together with the baking pan to 175°C/ 350°F..
Heating the pan will prevent leaking of the batter mixture later on.
3. In a small saucepan under low heat, dissolve the sugar and salt with the coconut milk. Let cool to room temperature.
4. Mix together baking powder and tapioca starch.
5. Break the eggs in a mixing bowl. Use a fork or a whisk to stir the eggs (about 25 times). Do NOT beat the eggs or over-stir; just stir enough to homogenize the whites and yolks. This is to avoid creating foam.
6. Add the coconut mixture to the egg mixture and give it a few stirs.
7. Use a strainer and sift (this is to avoid lumps) the starch and baking powder into the mixture .
Stir the mixture in one direction until smooth. Add the pandan extract
8. Take out the baking pan from the oven and use a strainer to strain the mixture (this is to avoid any lumps) into the heated pan .
9. Bake at 350'F/175C for about 45-50 mins, until golden.
10. Let the cake cool upside down on a rack.
The cake tastes the best freshly out of the oven. It can be stored for 1-2 days by wrapping in plastic wrap. If you serve it on the next day, microwave for about 15 seconds.