Traditional Chinese Pancake with Peanut
花生面煎糕
(Bee Chian Kueh)/Apam Balik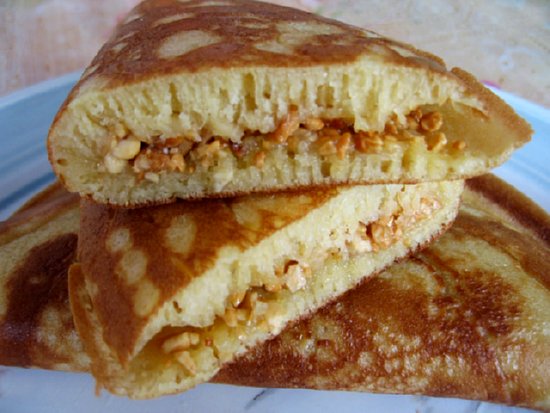 Ingredients for flour mixture (makes 5 pieces)

250g plain flour
20g custard powder
30g rice flour
1 tsp salt
45g sugar
1 tsp instant yeast
1 large egg, beaten
1 tsp vanilla extract
310ml water
1 tsp bicarbonate soda
cooking oil for greasing pan

Fillings
60g sugar
100g crushed toasted peanuts
60g margarine or butter


Method

1. Mix all the ingredients of the flour mixture except bicarbonate of soda together. Whisk until smooth. Cover and set a side for one hour.
2. After one hour add bicarbonate of soda . Whisk the batter again to mix well.
3. Heat a non-stick frying pan over low heat until hot.
4. Add some cooking oil to lightly grease the frying pan.
5. Add 3/4 cup batter and swirl the batter around to coat the whole frying pan and the sides as well.
6. Cook over low heat until bubbles appear. Add sugar and crushed toasted peanuts.
7. Add a bit of butter or margarine and spread some cream corn on top of the peanuts.
8. When the bottom is browned fold the pancake in half and transfer to a plate.