Basic Butter cake (Malaysian)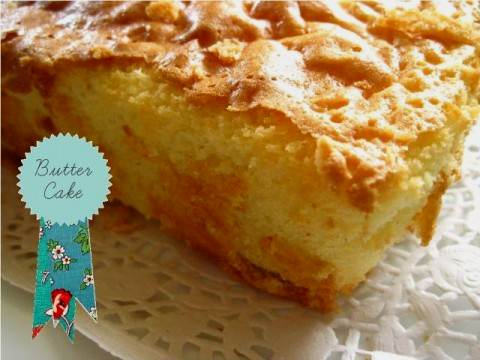 Ingredients
1 1/2 cups all purpose flour
1/2 teaspoon salt
2 teaspoons baking powder
1/2 cup butter
1cup white sugar
2 eggs
1 teaspoon vanilla extract
3/4 cup milk

Method:
1. Heat oven to 175 degrees C. Lightly grease one 8 inch square baking pan. Line bottom with wax paper or dust lightly with flour

2. Sift together the flour, salt and baking powder

3. In a mixture, beat butter and sugar till white and fluffy.

4. Add in eggs one at a time. Once the eggs have been combined and you have a smooth batter add in the vanilla essence.

5. Finally add the sifted flour to the cream mixture alternately with milk. Stir until just blend to ensure a smooth light batter.
It is very important not to over mix the batter at this point. Over mixing will develop too much gluten in the flour and the result will be a tough cake. Mix only to incorporate the ingredients. Check the consistency of the batter. It should be of dropping consistency. If it stands peaking and hard, add more milk.

6. Pour into baking tin and bake at 350degress F(175 degrees C) for 55 mins or until cake springs back when lightly touched. Remove from pan and allow to cool.
Tips
Make sure butter is well creamed before adding sugar. This incorporates air and makes for a lighter cake.
Use unsalted butter, at room temperature, if preferred. For a richer cake, use 185g unsalted butter, 3 eggs and reduce milk to 1/4 cup. Continue as directed.

See related : Basic butter cake from Coles & Simple Mother day Butter cake