Banana Chiffon Cake (Malaysian)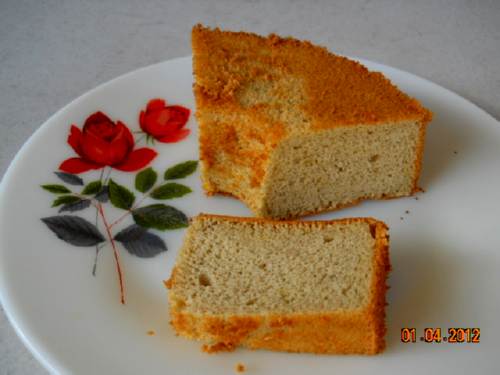 Ingredients:

Egg yolk batter
6 egg yolks
1/4tsp salt
60ml corn oil
170g banana mashed puree
50g caster sugar
110g plain flour * ( see below)
1/4tsp bicarbonate of soda
1/2tsp of banana essence and yellow colourings (optional)

* for a more moist cake change to 70g plain flour plus 40g rice flour. The rice flour will retain the moisture and create a moist cake.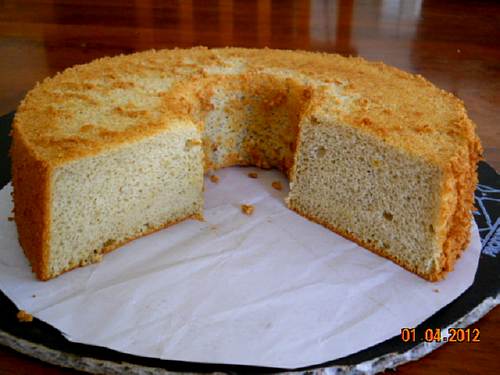 Egg white foam
6 egg whites
1/2tsp cream of tartar
100g caster sugar


Method:
1. To make egg yolk batter: Beat egg yolks with a hand whisk and combine egg yolks, salt, oil, banana puree,sugar and essense and coloring (optional) in a mixing bowl. Mix till well combined.
2. Fold in flour and bicarbonate of soda until forms batter. (sieve the flour with soda first before mix it in the egg yolk mixture)
3. To make egg white foam: Beat egg whites and cream of tartar until mixture forms soft peaks. Gradually add in sugar, beating at high speed until frothy and stiff peaks form. (*make sure the bowl and the mixer use to beat the egg whites are free from oil*)
4. Gently fold the beaten egg white foam into egg yolk batter until it's well blended.
5. Pour batter into ungreased 9" (22cm) tube pan. Bake in preheated oven at 150C (fan oven) or 170c for normal oven for 45mins or until cooked.
6. Remove from oven, invert cake onto wire rack until completely cooled.