Banana Crumbs Mocha Muffins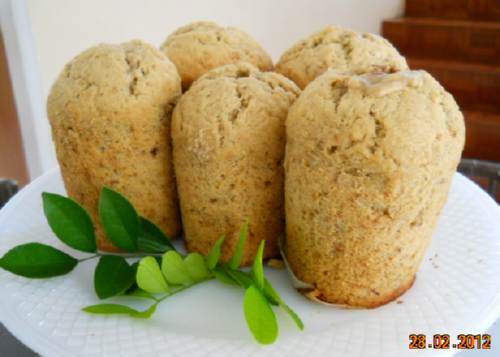 INGREDIENTS (Malaysian)

125g unsalted butter
100g castor sugar
2 eggs
½ tsp coffee mocha *
1 tbsp instant coffee powder *
25g cocoa powder *
3 tbsp milk
3 tbsp water
250g all purpose flour
2½ tsp baking powder
40g chopped walnuts
150g bananas, peeled and mashed

* replace coffee mocha / cocoa & coffee powder with 1 packet of 3 in 1 instant coffee mix (25gm) to make coffee banana muffin.

Method
Line 6 small ceramic small bowls with greased greaseproof paper and preheat oven to 200°C. Mix coffee mocha coffee powder, cocoa powder, milk and water into a paste. Sift flour and baking powder together.

Beat butter and sugar until creamy then add eggs one at a time. Add mashed bananas and beat in combined coffee and cocoa paste. Mix until well blended.

Stir in sifted flour and mix well. Add chopped walnuts.

Spoon mixture into prepared bowls until three-quarters full. Top with a slice of banana and half a walnut. Bake for 25-30 minutes or until muffins are well risen. Leave in the ramekins for 5-6 minutes, then remove the muffins onto a wire rack to cool.