Ping Pei Moon Cake with Lotus Filling



Ingredients
Filling:
· Lotus paste

Pastry (Skin):
· 225g koh fun (cooked glutinous rice flour)
· 200g sugar
· 290ml water
· 1 tbsp condensed milk
· 3 tbsp shortening
· Colouring of your choice

Method
Boil water and sugar together until sugar dissolves. Leave to cool, add in condensed milk and mix well.

Sift kao fun into the cooled syrup solution. Add in shortening and mix into a smooth dough. Leave aside, covered, for 15-20 minutes.

Divide dough into equal portions. Wrap dough around filling. Press into mooncake mould, knock out and chill in the refrigerator.

Lotus Paste
Ingredients
· 500g lotus seeds with skins, washed
· 1 tbsp alkaline water (kan sui)
· 3½-4 cups water
· 400-425g castor sugar
· 450g oil
· 1-1½ tbsp maltose (mak ngah tong)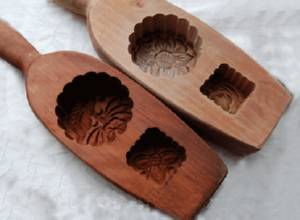 Traditional wooded and new Plastic design moon cake mold.

Method
Put lotus seeds into a large mixing bowl. Add alkaline water and steep for 5-10 minutes. Pour boiling water over the seeds then cover and soak for 10 minutes.

Drain the water from the seeds then add cold water. Next, completely remove the skins from the seeds by rubbing them off. If whole lotus seeds are used, remove the green centres then boil seeds in water until soft and tender.

Blend the cooked lotus seeds into a fine paste in an electric blender or food processor.

Heat up a wok and melt half the sugar until it turns lightly golden.

Add lotus seed paste. Cook, stirring all the time until the lotus seed paste thickens. Add in the remaining sugar and pour in the oil a little at a time. Continue to cook until it is thick. Stir in maltose. Use a wooden spatula to stir until the paste leaves the sides of the wok.

Dish up and leave to cool before use.